Why Haritaki is also known as 'the king of medicines'
16 Jun
Posted By
0 Comment(s)
720 View(s)
Haritaki is also known as 'the king of medicines' and serves remarkable health benefits such as; it prevents hair loss and removes dandruff, helpful in constipation, prevent a cough and cold, removes acnes and ulcers, boost immunity, prevent diabetes, helps in weight loss, fight with skin allergies, improves heart conditions.
Triphala Powder Capsules From Dried Haritaki Fruit (100% Pure & Organic) 30 Count Click Here To Order

haritaki is an ayurvedic herb derived from the seeds of Terminalia Chebula tree. It is a drupe-like fruit, oval in shape with size varying between 2 – 4.5 cm in length and 1.2 – 2.5 cm in breadth having 5 longitudinal ridges. Depending upon its variety, it turns green – blackish in color when ripens. Haritaki fruit tastes sweet, sour, bitter depending upon its types. There are 7 types of Haritaki: Vijaya, Rohini, Putane, Amruta, Abhaya, Jivanti, Chetak.
Gut, Colon & Digestive Tract Cleanse In Capsules With Haritaki (Major Area For All Diseases) Herbs Package- Click Here To Order Now
Nutritional Value of Haritaki
Haritaki consists of ingredients which are recognized to have healing properties including anticancer, antibacterial, antidiabetic and anti-oxidant properties. Haritaki is very nutritious containing essential vitamins, minerals, and proteins. It is a source of vitamin C, manganese, selenian, potassium, iron and copper. It also contains plant chemicals like – tannic acid, gallic acid, palmitic acid, stearic acid and behenic acid.
Health Benefits of Haritaki
Mentioned below are the best health benefits of Haritaki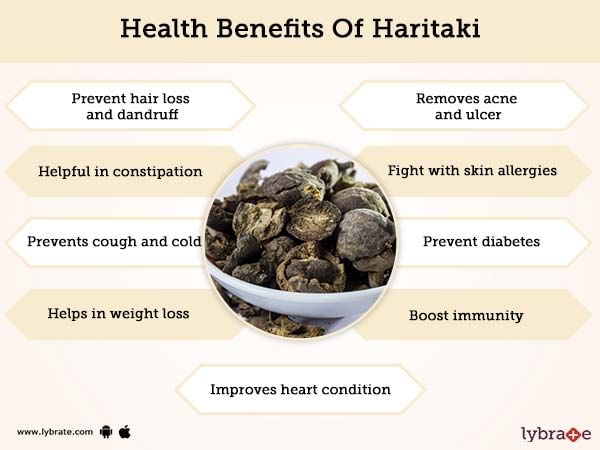 Prevent hair loss and dandruff
Haritaki proves to be very useful for hair loss in the form of Haritaki herbal oil, which can be prepared by heating a cup of coconut oil in a pan with 3 pods of Haritaki till it turns brown and the outer shell cracks and allowed to cool. This oil also prevents Dandruff and lice infections.
Removes acne and ulcer
Haritaki has antibacterial properties which make it very effective for treating acne and ulcers. Take haritaki powder and boiled water, make a paste and apply it on acne and ulcer spotted skin.
Helpful in constipation
Haritaki is a natural laxative and contains dietary fibers, which fights constipation. During constipation, one should take haritaki in the form of powder with water. To prepare a Haritaki powder, take haritaki fruit, remove the seed and sundry the pill, then take the peel and grind it.
Fight skin allergies
Haritaki is very useful in fighting with skin allergy. The haritaki paste is the best remedy for such problems. This paste is light green in color and can be made by taking a haritaki fruit and rubbing it on sandal stone with little amount of boiled water. Take the paste and apply on the infected skin.
Prevents cough and cold
Haritaki provides protection from cough and cold. To cure cough and cold, one should take haritaki powder along with honey. It also cures a sore throat and gingivitis.
Prevent diabetes
Haritaki helps in controlling blood sugar levels and decreases insulin sensitivity in the body.
Helps in weight loss
Haritaki helps in removing the toxins from the body and keeps digestive system on track. Haritaki is a natural blood purifier. Haritaki if taken in form of powder regulates hunger, and if combined with balanced diet and exercises leads to weight loss.
Boost immunity
If ghee fried Haritaki powder is taken regularly, then it acts as an immunity booster and increases longevity.
Improves heart condition
As the purity of the blood increases, the heart muscles grow stronger. The clean blood has the effect of stopping the build-up of fat in the artery, especially the coronary artery. When these effects take place, they lead to a reduction in blood pressure, a strong heart, and clear arteries.
Uses of Haritaki
Apart from its medicinal uses, Haritaki has spiritual benefits, such as third eye awakening. It has a unique property of maintaining the balance of three doshas i.e. The air (Vata), the fire (Pitta), the water(Kapha).